"Be true to your own act, and congratulate yourself if you have done something strange and extravagant, and broken the monotony of a decorous age. It was a high counsel that I once heard given to a young person, 'Always do what you are afraid to do.'" –Ralph Waldo Emerson
I'm an atheist. I'm an atheist who grew up half-heartedly Catholic, and during CCD (Confraternity of Christian Doctrine) classes, around age eleven or twelve, I worked drawings and commentary about my hamster into our assigned journals on Jesus and God's presence in our lives at every opportunity. The fantastic stories in Greek and Roman mythology I was learning around the same time did not seem too different in tone or likelihood from Bible stories. The only difference, as far as I could tell, was that I was being told only some were true. I chose Thomas as my confirmation name because it was the closest I could get to expressing my doubts at that age.
Yet, I went on to become a paid church singer during and after college for seven years at a Catholic church in Queens and an Episcopalian church on Long Island. This gave me long and regular exposure to Bible readings, sermons, and sacred music. I developed a love for the pageantry and drama surrounding the narrative arc of Jesus' story, and a fondness for the sense of community that a church can provide. As a composer, I have written many choral pieces for church and synagogue use, and don't feel hypocritical about it, because I map my personal beliefs about my place in the universe and the beauty I find in science and nature onto the monotheistic beliefs of the faithful.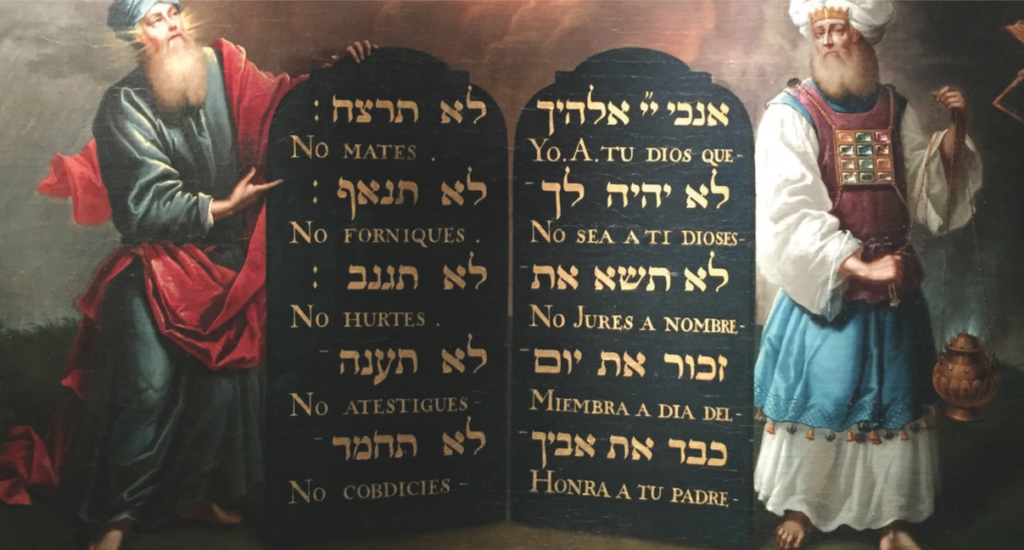 I am raising two amazing sons without religion. They are good, loving, respectful, flexible, curious, and every other favorable thing I could possibly imagine. And they have very little knowledge of Bible stories. So it made for a fascinating conversation one day about a year ago, as we drove past the Holy Land Experience, off I-4, with its elaborate mural. We'd passed this building many times, but my older son noticed it for the first time and asked about it. As a ten-year-old, his special curiosity about the image of the boat and the animals was unsurprising.
I proceeded to tell my sons the story of Noah and the Ark as neutrally as I could. Their questions were as much revelatory to me about their own sense of right and wrong as they were about the disturbing questions the Bible doesn't address directly. God was unhappy with everyone? Everyone? Even the kids? Why did the animals have to die?
I began to think a lot about that story. What happened during those 40 days of rain? How did people react to it? Did anybody run for higher ground? What about babies born after the rain started? Did anybody get on or build boats of their own? How would I feel and what would I do if I knew that the world was truly ending? What would I tell my sons then? These thoughts led to alternately humorous and deeply dark places.
I began telling people about my conversation with my sons and my subsequent musings and imaginings, and one of them made the comment that it "would make a great show for the Fringe Festival." As I've written about it in recent months, improv comedy is something that has become important to me, but I'd not considered the possibility of creating a show of my own. I looked into it and learned that the Orlando Fringe has a lottery process for its shows. That's it. A lottery and nothing else. No curation. You sink or swim if you get in.
I recalled the year I'd ran my first marathon in New York City. I'd caught a flu that knocked me out of commission for a few weeks. I had been training in jiu-jitsu at the time, and when I went back into the dojo and it came time for grappling, I felt like I got tossed around like a rag doll by guys I was tossing around myself a few weeks earlier. I was distraught about it and decided to add one- to three-mile runs into my weekly routine to recover and improve my conditioning. Ludicrously, at some point I decided I would enter the lottery process for getting into the marathon. I had never run much before, and had been at it for only about a month or so. I got in.
I took it as a sign to train for it, with the internal understanding that I could stop running and drop out at any time. But as the race drew nearer, I knew I had to go for it. I don't regret it. Running a marathon (I ran twice in New York City and once in Chicago) was a powerful, memorable experience, and the first one especially felt like a trauma and a triumph at the same time. Much like going to church, there is pageantry and drama, and a strong sense of community amongst marathoners.
What drove me to enter the lottery for the NYC Marathon was the thought that I would benefit from being in over my head. I didn't know if I could do it, but wanted to prove to myself that I could. Entering the Fringe lottery felt the same way and had the same result. I got in. I took it as a sign. I'm preparing for it. I'm stretching in ways I hadn't anticipated. I'm writing sketches. I'm writing lyrics. I found other performers whom I have to direct.
The cast includes Joe Llorens, one of my trusted buddies with whom I went through some of Sak Comedy Lab's improv and stand-up classes; Lynde Schmidt, a great young actor that I met in
Art Sake Studio's Film I/Meisner acting class; and Christie Johnson, an acting and dancing talent I discovered through Fringe's Unified audition process.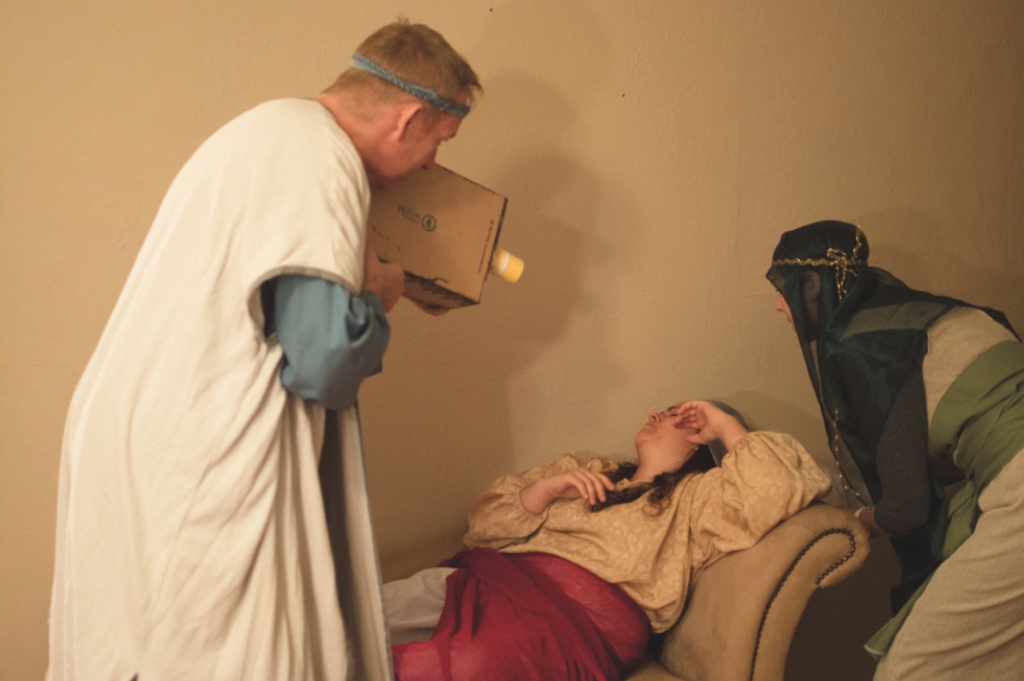 Two months ago in this column, I wrote about one of improv's time-honored principles, namely the concept of "yes, and." "Yes, and" demands that an improviser treat whatever their scene partner does or says as an offering that must be accepted as part of the reality of the scene. The improviser then builds upon the offer with their own contribution, and so on. Biblical Fan Fiction is essentially an extended "yes, and" to selected Bible stories. What that means is that we accept selected stories as true, namely Elisha and the Bears, John the Baptist, and Noah and the Ark. Using sketch comedy, improv, video, children's art, and music, we tell the stories, embrace anachronisms, fill in some blanks along the way, and answer some questions the Bible doesn't, like: Is God bald? Where do babies come from? How good does a dance have to be to get someone's head chopped off? Was Noah the only guy with a boat? Why are there no unicorns?
When it's done well, improv doesn't always necessarily result in laughter. Sometimes a scene unfolds from a "yes, and" and leads to an unexpected place. While imagining an interview between Noah and an animal candidate for admission to the Ark will naturally lend itself to humor, imagining a parent building a boat to save his children from certain death might lead to something more profound. The lyrics for a song I'm working on for the show try to grapple with some of these questions I would certainly be dealing with as a father
Our world is ending soon my child.
For all my sins and heresy,
All the years that I ran wild,
The ground is giving way beneath us.
I'm sorry.
The cost is far too high, my son,
And I can't let you pay it
When I'm the guilty one.
The tides are rising all around us.
I'm sorry.
Hush my little angel, don't you cry.
I know what you are thinking,
but this doesn't mean goodbye.
I'll do anything for you,
Anything, for you.
My very last breath,
I'd give that to you too.
I'll build you a boat
Watch as you float
Away, away, away.
Long, long after I've left this place,
Even the memory of me
will remember your face.
That's how much I love you,
And my love will embrace you always.
One of the primary differences between producing Biblical Fan Fiction and running a marathon is that I absolutely could not be doing this alone. I'm grateful to my cast and the people who have encouraged me along the way. I love being a part of the arts community in Orlando, and I hope you'll come out like non-runners do for a race to encourage us and cheer us on. Give us the equivalent of orange slices or banana halves. I'm still scared, but facing the fear is part of improv, part of performing. Richard Bach said, "When you have come to the edge of all the light you have, and step into the darkness of the unknown, believe that one of two will happen to you: either you'll find something solid to stand on or you'll be taught how to fly!"
Performances of Biblical Fan Fiction at the Orlando Fringe Festival will take place in the Purple Venue on Wednesday, May 17 at 6:15pm; Saturday, May 20 at 1:30pm; Monday, May 22 at 8:45pm; Friday, May 26 at 7:00pm; and Saturday, May 27 at 11:15am. Tickets are $10.