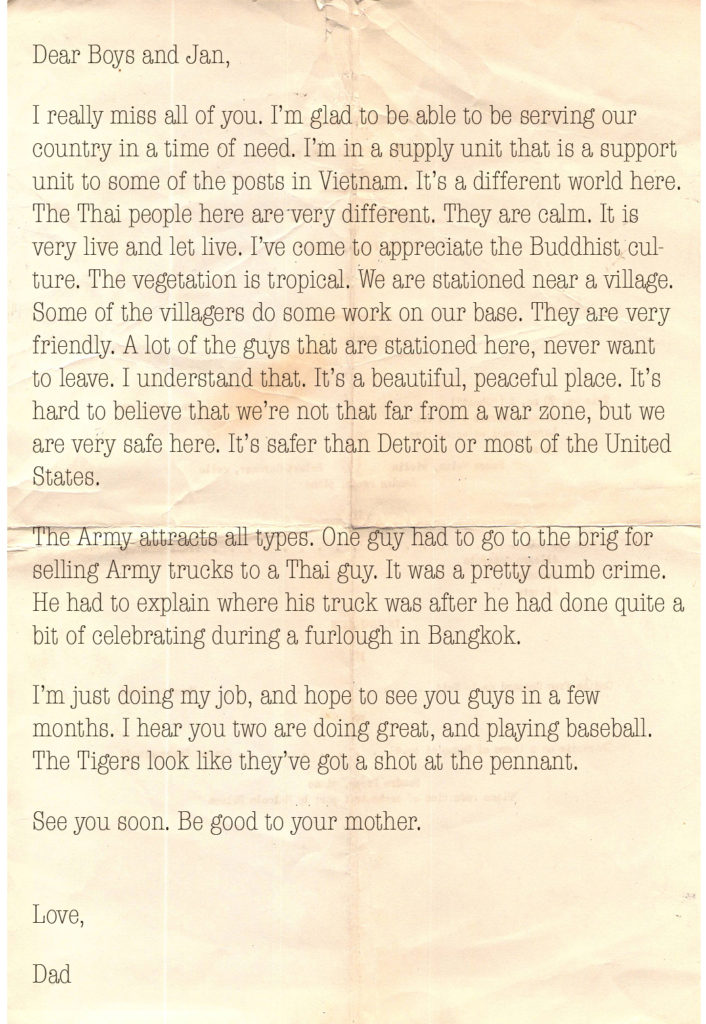 Dear Boys and Jan,
I really miss all of you. I'm glad to be able to be serving our country in a time of need. I'm in a supply unit that is a support unit to some of the posts in Vietnam. It's a different world here. The Thai people here are very different. They are calm. It is very live and let live. I've come to appreciate the Buddhist culture. The vegetation is tropical. We are stationed near a village. Some of the villagers do some work on our base. They are very friendly. A lot of the guys that are stationed here, never want to leave. I understand that. It's a beautiful, peaceful place. It's hard to believe that we're not that far from a war zone, but we are very safe here. It's safer than Detroit or most of the United States.
The Army attracts all types. One guy had to go to the brig for selling Army trucks to a Thai guy. It was a pretty dumb crime. He had to explain where his truck was after he had done quite a bit of celebrating during a furlough in Bangkok.
I'm just doing my job, and hope to see you guys in a few months. I hear you two are doing great, and playing baseball. The Tigers look like they've got a shot at the pennant.
See you soon. Be good to your mother.
Love,
Dad
My father had sent us some letters from Thailand while we were living in Detroit. As he mentioned, he was stationed in Thailand in an Army support unit. A couple of years later, we were living in Cleveland. My father was making good money. We weren't sure what he was doing, but we knew it paid well. He was traveling a lot. I was 11. My brother was 9. We had heard my parents arguing, and had received calls from strange women asking for my father. My brother and I had surmised he was having an affair.
One evening my mother was crying while talking on the phone. We knew she was talking to my father. She kept saying she wouldn't wire him money. We could hear him yelling at her through the receiver. She hung up. He kept calling back. At least, we assumed it was him. At that time, there was no caller ID or even an answering machine.
My mother was still crying. She told us not to answer the phone. Then, she told us that he was having an affair, and that he'd had other affairs. I remember my brother and I saying we knew, and she didn't seem surprised. She said he was in New York with a woman; he wanted to take her to dinner and to see "Oh! Calcutta!" She explained that "Oh! Calcutta!" was a play on Broadway and all the actors were nude. She seemed disgusted by this.
A couple of days later, the three of us flew to Ft. Lauderdale. Edee, my father's mother, bought us tickets and invited us to stay with her. We didn't tell my father. Later, when my father angrily told his mother she betrayed him, she said, "My grandsons come first, and it appears that your wife is trying a lot harder than you are."
We had been living in Cleveland for less than a year, after Detroit didn't work out. It wasn't really clear to us why Detroit didn't work out. My mother explained to us that my father was not in the Army, he was in prison. He had written those letters from jail. He had never been to Thailand. She said he had probably read a National Geographic article for research. He had been arrested, shortly after we arrived in Detroit, for passing several bad checks in Florida. He had lost a great job in Detroit because of the arrest. My parents decided to tell us that he was drafted. He had served towards the end of the Korean War. That war actually ended while he was in basic training. Later, I found out that he was given an ultimatum by a judge saying "jail or the military." He chose the military.
By the way, the letter above is a fictionalized version of his letters. My brother and I think that my mother destroyed his "Army" letters.
"Were you born in Detroit? How long did you live here?" "No, I was born in Ft. Lauderdale. I lived in Detroit for two years, from ages 9 to 11." That was a familiar exchange when I visited the city for a few days earlier this month. A few times people laughed and said "you aren't from Detroit." I don't think I ever claimed that, and I'm not completely sure what that means. I may not be a Detroiter, but Detroit was significant. I hadn't been there since I was 11.
During the ride to Detroit from Winter Park, Florida, my brother and I saw snow for the first time. Looking back, it must have been a rare big snowfall. We started seeing a fair bit about midway through Georgia. I remember Chattanooga looking like what I imagined Switzerland looking like. We stopped at a Kentucky gas station. My brother and I excitedly ran out of the car and immediately fell on our asses, not having any experience with icy surfaces. My father laughed. We had been talking about snowball fights in the car. My brother and I were already veterans of orange fights—orange trees were everywhere in 1960s Florida. Right after getting up from the ice, I started to make a snowball. I was slipping, trying to keep my footing. I know this may sound really naïve, but I remember being surprised at how cold the snow felt in my gloveless hands. Snow was something from a movie in my mind. I made a half-assed snowball and immediately fell down again. The snowball was not very compressed and fell apart upon release.
We pulled up to our new home. The houses were so close together. My father joked that he could reach out the window and shake our neighbors hand. We lived in a downstairs flat. We split the building with our upstairs neighbors. All of the buildings on our block were a sooty, red brick. We had arrived in February. The skies were mostly grey. There was a lot of snow. My brother and I said the place was depressing. We also had to shovel the driveway every morning that it snowed.
When the snow thawed and spring came, it didn't take long for us to fall in love with baseball. My dad had a coworker who had a younger brother who was a couple of years older than I was. He explained baseball to us. I still love the stats.
That summer, Detroit had one of the worst race riots in the history of this country. Homegrown star Tiger, Willie Horton, made a plea for his fellow blacks to stop fighting. They continued to fight, ignoring Horton.
It was 1967, the Tigers ended up losing the pennant to the Red Sox. It was a tight, four-way race. The following season was one of the best. Denny MacLain—a pitcher who played the standards on a Wurlitzer at Ramada Inns during the off season—was the last pitcher to win 30 games, and the first since Dizzy Dean in 1934. The Tigers beat the Cardinals in the Series. MacLain looked like a future Hall of Famer, but his career took a dive because of injuries and personal issues. Following his retirement from baseball, he was in and out of prison for fraud. He appeared to have more in common with my father than I realized.
A few weeks ago, my friend Greg and I flew into Detroit, picked up a rental car and headed to Dearborn, because we had heard so much about the long Lebanese history there. We wanted some Lebanese food. We were not disappointed. My friend Mike Khoury had grown up in Detroit. Not only is he a great violin player, but he is also our go-to person when asking where to eat.
The first night we went to Redford, a suburb of Detroit on 6 Mile road. Mike had just opened his venue. It's a part of his label, Entropy Stereo. We met his first artist-in-residence, Leyya Tawil. Leyya is a dancer who performs with Mike.
We stayed in an AirBNB in Hamtramck. When I was a kid, Hamtramck was mostly Polish. There is still a Polish population, but it also has a large Islamic population. We ate at a Yemeni spot and a Bengali restaurant there. While in Detroit we went to Mexican town, MOCAD, a Tigers game, had a Lafayette dog, a Vernors Float, and a lot of things I'm forgetting about. I saw the sad remnants of old Tigers stadium. I went by the house that we lived in. I couldn't tell which one it was. It was in the middle of several others that looked just like it.
I may have visited the city a little wide-eyed, but I know there is still a lot of soul in the town that I lived in, the town that brought the whole school to the auditorium to proudly watch a Motown documentary.
I also know that the city has a reputation for being a ruin, but it is so much more. I was inspired by the artists there. Popps Packing's 80s Mitsubishi van that was converted into a sauna. The whole place, by Graeme Whyte and Faina Lerman, is a beautifully piecemealed compound.
We went to an opening that was very down to earth, and felt more like a neighborhood party. I met another great Detroit artist, Scott Hocking. His site-specific sculptures of ruin within ruins have become a familiar sight on websites like Hyperallergic. We also visited Power House Productions, by Gina Reichert and Mitch Cope. They had bought a few Hamtramck houses and made them into art projects. One is the sound house; there's a theater house too. The skate park they made in a field is very popular. Most of these artists would be considered social practice artists, but there is a feeling that they learned plenty in art school and went renegade, and door-to-door with their findings. It is a social practice that is integrated into the community and doesn't feel laboratory-like.
I found a different Detroit than I remember as a kid. I could still see a familiar landscape, but I had changed. I'm much older. My trip might have had some nostalgic motivations. Though I don't want to relive my childhood in Detroit, I know it helped form who I am.