Josiah Lloyd paints imagery that simultaneously reveals the knowns and the unknowns of our society. I was fortunate to meet Lloyd at the opening of his most recent exhibition All False Witnesses at DBHOM Gallery in Gainesville, Florida.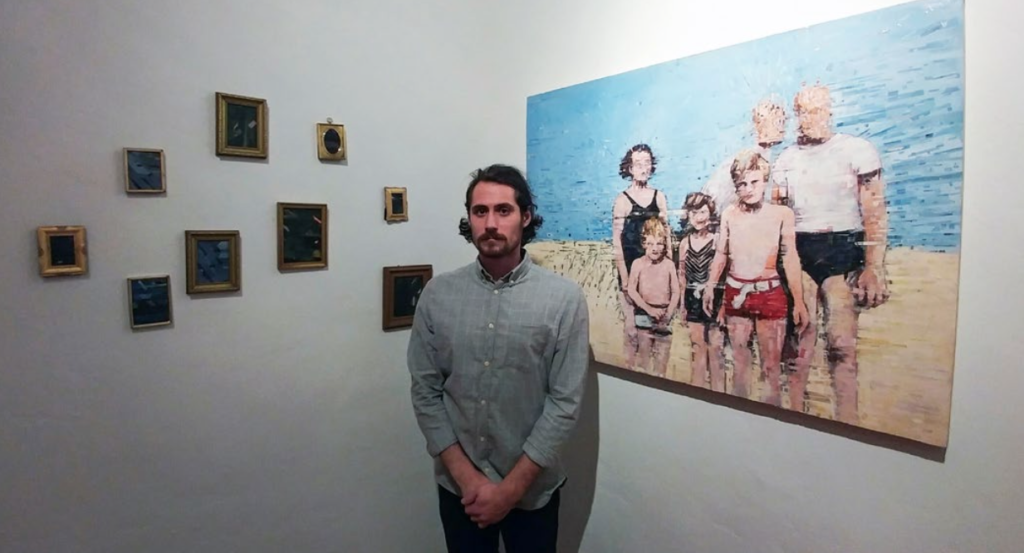 Lloyd has been working in his studio at DBHOM (short for DNA By the Hand of Man) for about six months, creating his own residency in an open, spacious room on the second floor of the gallery. DBHOM began in February 2016 by Gerard Bencen, a Patent-Arts lawyer, in order to provide Gainesville with a gallery space that can also serve as a space for artist studios. Lloyd showed me rooms that would prove to be wonderful spaces for figure drawing, as well as a kitchen, which he hopes may become a cafe in the future. Together, Lloyd and Bencen are working to make DBHOM Gallery a creative and multi-functional space for Gainesville creatives to enjoy.
All False Witnesses is comprised of Lloyd's newest series. "It's a body of work being developed as its being created," he explains. The exhibition spanned two rooms on the first floor, filling the space with Lloyd's paintings, which range from four inches to nearly six feet in height. The impressive array of scale and subject matter takes the viewer on a visceral journey, bringing the imagination to a new space and time with each work.
"The ultimate accomplishment," says Lloyd, "comes if you could look at the first gestural mark that I made and the last mark that I made all in one eye-shot."
Looking at his paintings, you feel that invisible thread he is describing, experiencing the liminal world he has created through stretches of tape, paint, and moments of ink. "Each of the paintings contains a history of marks," he says, noting that some of his most recent works have been in progress since 2012.
Lloyd's paintings begin from a photograph—specifically, from a discarded analog image. He then paints directly onto the found photo, scans the image, and enlarges it into a transfer image. He then continues this process of painting, scanning, and transferring the image until he arrives at the scale he desires.
"The entire process is subtractive," says Lloyd, "Rather than what we think about painting as being an additive process." His use of tape allows him to isolate certain qualities of the original image, stripping away layers of paint to find the final image.
His ultimate goal is to, "make marks into images and images into marks," creating transformational imagery that flirts between the realms of photography, printmaking, and foremost, painting. His innovative technique works almost in a backwards process, and results in a completely refreshing body of work. The multi-layered process Lloyd employs allows the viewers to experience his works both in terms of composition and subject, as well as through his history of marks.
Photos by Halee Sommer
You can see more at: @josiahllwyd
facebook.com/DBHOM