Leah Sandler will discussion her work, The Archive of Scarcity, a one-time project for Window | Regional, on Thursday, March 2nd, 4-5pm at the Rollins College Olin Library. Read more about her project from Window below: 

"Window (re/production | re/presentation) is pleased to introduce The Archive of Scarcity, a new work by Orlando/Philadelphia-based artist Leah Sandler. Two versions of this work were conceived and produced by Sandler specifically for Window – one for our original location in Asheville, NC, and a second for The Olin Library at Rollins College in Winter Park, Florida – a location that formerly served as one of the sites for our recently concluded Window | National project."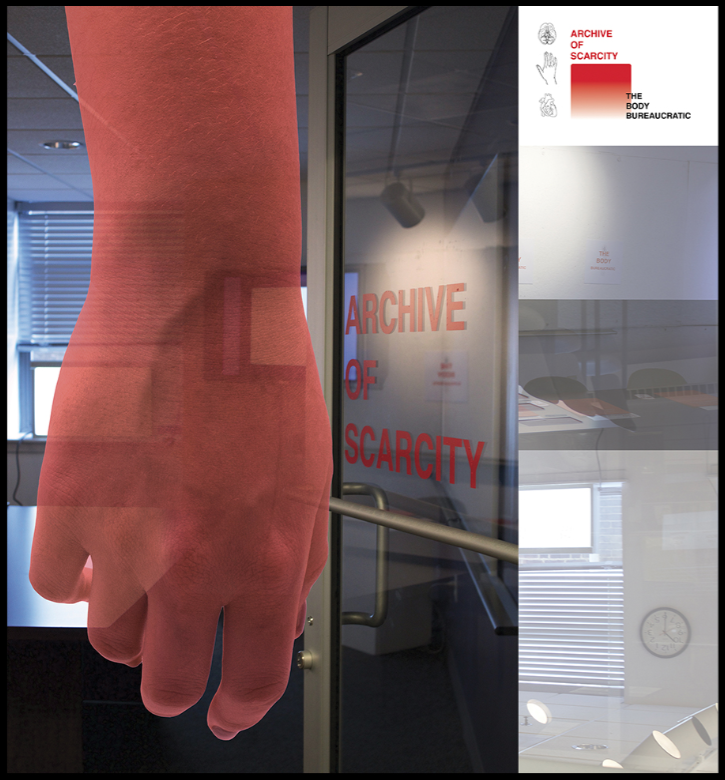 "The Archive of Scarcity is part of a larger ongoing body of work by Sandler, The Body Bureaucratic. This particular piece functions as one possible representation of such an institution, in an aestheticized form that emphasizes the body as an enormous appendage encroaching upon a space activated with tropes of corporatized branding. The appropriation of these forms as a temporary window display confounds viewer response both visually (as an image of a glass-paned door panel and adjacent semi-translucent boardroom windows seemingly opening into a space beyond the physical glass of the site's window itself) and semiotically (as an image purporting to function as an advertisement of sorts, comprised of legible symbols and text that are nonetheless not immediately comprehensible).
Window is a site-specific, minimalist exhibition space envisioned as a platform for contemporary image makers who engage with issues of re-production and re-presentation within their practice via political, philosophical, theoretical, poetic and/or process-based frameworks."
See more at windowcontemporary.org