Let's start in the barrio. The Bronx. Wanda Raimundi-Ortiz was one of seven kids, raised on a single person's salary; finances were important to her. "I was born like this," she began, by saying she'd always been artistic and explained that illustration and graphic design sounded like good career paths[1], so she earned a degree from SUNY's Fashion Institute of Technology to become a fashion illustrator.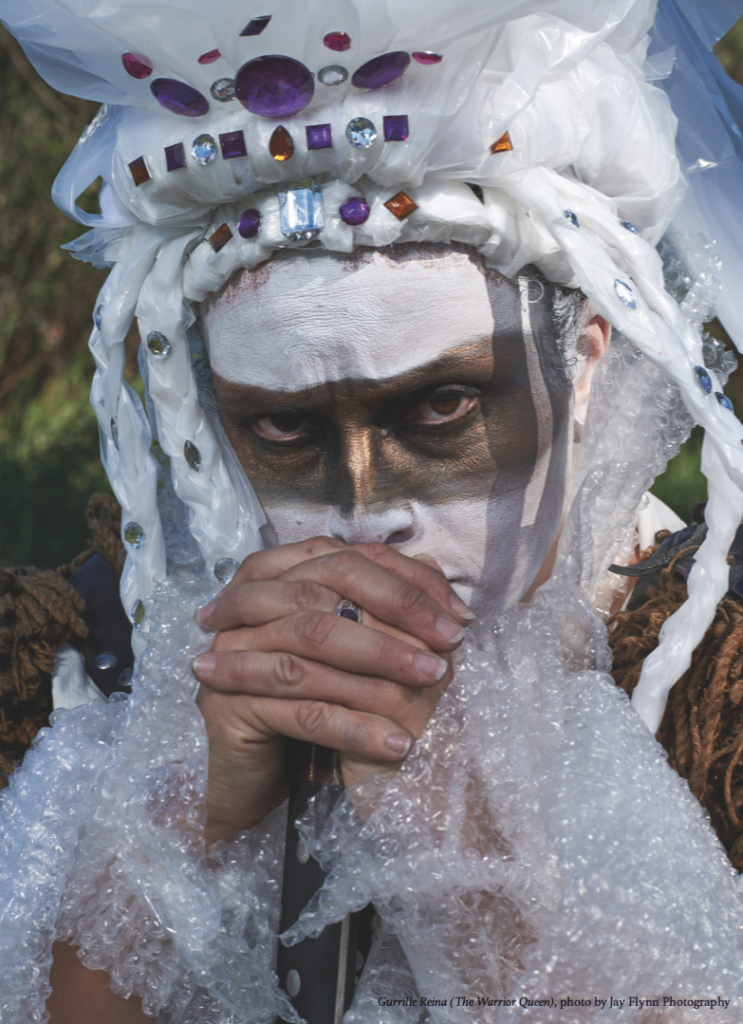 Though she wasn't exactly awkward, Raimundi-Ortiz danced to her own drum while straddling at least two cultures. Light-skinned and Latina, this teen loved the New Wave and goth movements of the early '90s. Wepa Woman was a comic book she started as a 19-year-old illustrator, featuring Chuleta, a Boriqua protagonist who gave voice to her interests and curiosities. "I felt ostracized. I didn't look the way Puerto Rican girls were supposed to look, or act the way they were supposed to act." She was raised to be proud of her identity and also to defy stereotypes, yet this left her feeling "not Puerto Rican, or hood, or thug enough" at times. In response, she created "Chuleta, who looked more like me, but sounded nothing like me."
"Sistas from the hood making art about being in the hood, repping for Latinas and for women."
Wepa Woman's electric concept is fresh, live. Borne of collegiate knowledge and spunk, and primitive in its nature, Wepa Woman nodded at African diasporic art and Raimundi-Ortiz flew with it.
Her YouTube videos are candy; she has 27. Raimundi-Ortiz crafted the Ask Chuleta series in which she plays a barrio girl (with full-on Rosie Perez accent) who explains contemporary art[2] telling you that the event is free, "So you don't have to pay nothing, Mamí." Art aside, let's begin by recognizing them as advertising for the Wanda Raimundi-Ortiz brand. It's effective. She's iterating the integral dichotomy by addressing her audience with character(istic) humility, making her accessible to an enormous range from the "blue collar, working class, urban NuYoRicans" to the more "affluent collectors; big money people."
"I find the uncomfortable positions, and I want to stick my finger in and poke fun at the institution that has kept me employed. Initially, that project was inspired by trying to explain my career to a relative about how I can go into a gallery and sit for three hours letting people dump trash on me. [It] sounds ridiculous because this job is very weird, so I came up with Chuleta."
Bridging her video and performance art is her fashion background. Chuleta often appears with pinches[3] in a doobie wrap[4] so as to imply an informal, nearly naked look into her life.
"The costuming is a big component because I'm painting a picture with my own body."
In other videos she's wearing "full makeup"[5] that she learned from YouTube tutorials, and big hoop earrings. Through dressing and addressing the phantom limbs of her psyche, Raimundi-Ortiz is exercising latent elements of her personality by recognizing how much more likely it would have been to turn out like one of her Chuleta characters than as she is today.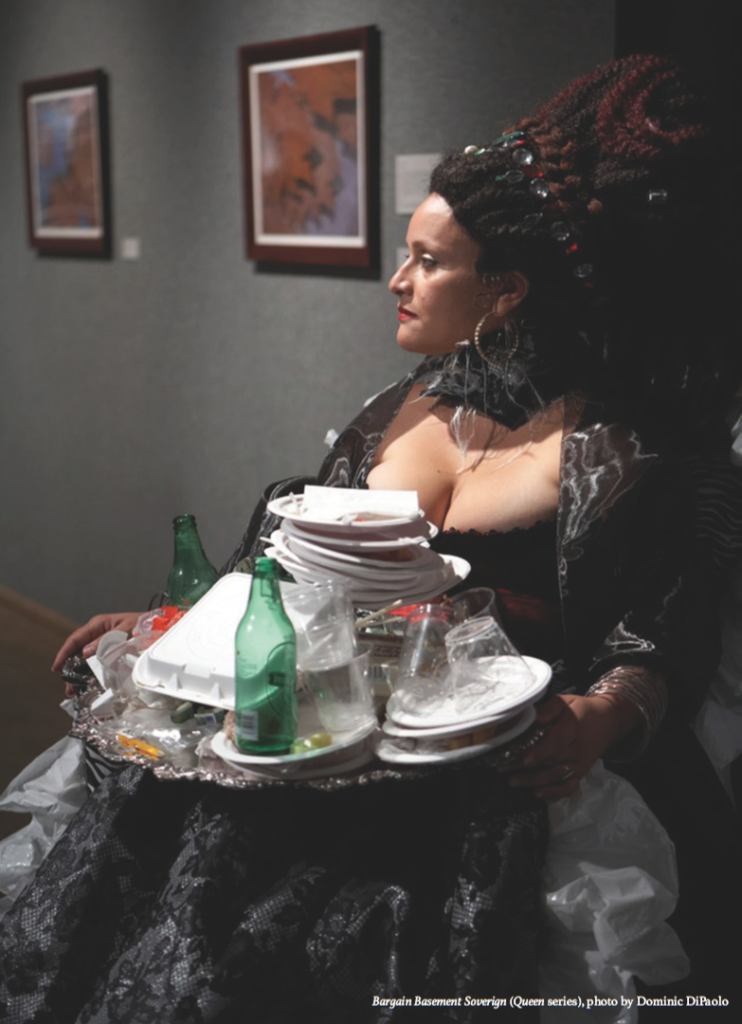 "I highlight my collarbones to not look fat. The fashion industry is so anti-woman, the style is to be rail thin: bones showing. You can't be plump and fed; you need to teeter into starvation to be sexy." A First World problem, she says.
Of her upbringing, Raimundi-Ortiz said Borinquen culture was up front. "We ate traditional foods." Foods that plump the body, rounding curves and necessitating fashions ill-suited, ironically so, to the Banana Republic look.
She plays with various states of undress to imply the natural condition of her characters and to blur lines, since their semi-autobiographical underpinnings make it challenging to differentiate where one begins and ends. "When I started [The Gringa Reina] project, I said: Let me go find everything wrong with me and show it mid-way [through remediation], the push up bra and the shaper and the curlers, the highlighters."
Earlier this year, Raimundi-Ortiz was awarded of a Franklin Furnace Grant for her Reinas/Queens series in which each of her queens are costumed to address these insecurities. She examined what made her most uncomfortable about herself and how it was in opposition to the "Eurocentric notions of beauty" that demand bland homogeneity.
Bargain Basement Sovereign united performance and gallery art when Raimundi-Ortiz dressed in queenly array to sit with regal pride on a throne as she accepted "offerings" of garbage during her reception.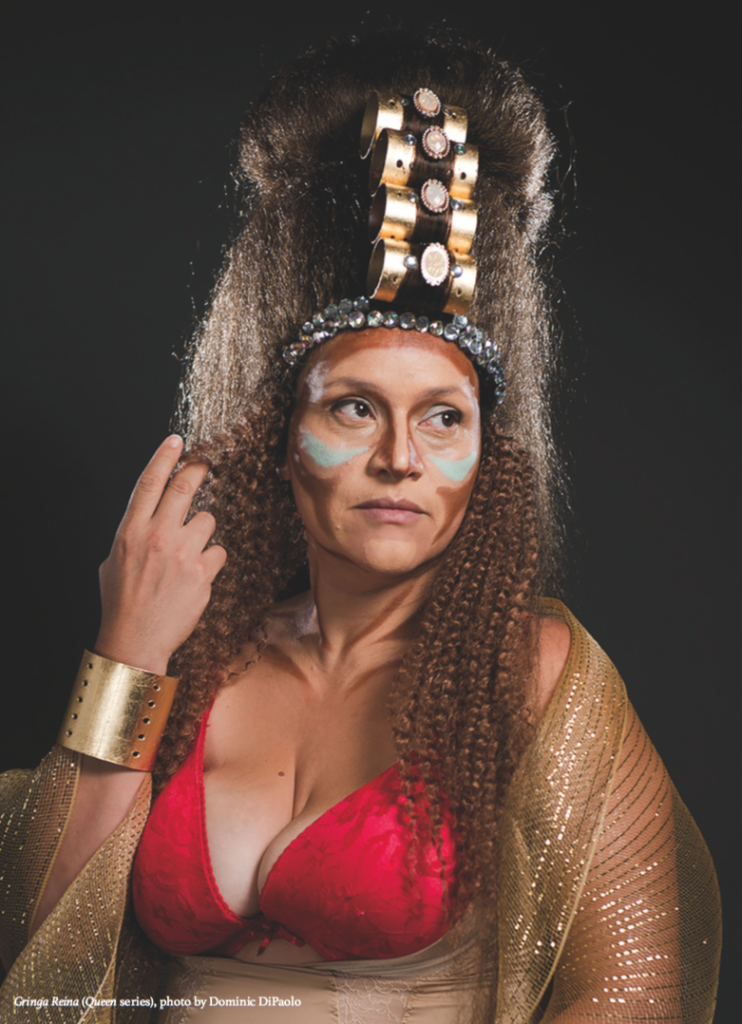 Two of her other queens wear trash—PorcelaReina is clothed in a bubble wrap gown (components found at a curator/conservator's office) in white face paint, begging questions like, "How light skinned are you?" "How fragilely we should treat ourselves?" "Are we so delicate that we must be preserved in a conservator's closet never to see the (fading) light of day?" "Or are we meant to man-handle our fragile bits and assume that delicate elements were not intended to last, so better to let them go?"
The Gringa Reina uses her sexy parts in non-sexual ways that arc beyond these ballsy acts of revelation. By appearing in public wearing Spanx and lopsided ta-tas, she exposed with compassion what might otherwise be laughable, and uses her body and identity as object lessons while tackling "the signifiers attached to the Latina body: the red outfits, the buxom bosom."
Raimundi-Ortiz's crown multiplies with jewels as the young mother is up for tenure at UCF, is continuing to produce performance art that will be presented at Rollins' Cornell Fine Arts Museum in March, preparing for a solo show in New York, teaching three classes per semester, and peppering things up with nationwide presentations on her work.
All hail the queen.
[1]  In which one could work 40-50 hours a week to pay bills.
[2] Salted with dating advice for how to get a woke man; makeup, hair and cultural references: big ups to a handful of DJs; and so meta when she touches performance art and herself, then goes surrealistically Martha Stewart with "fly ass" bow-tying tutorials.
[3] Bobby pins
[4] Hair-wrapped-around-the-head-after-straightening/on-your-way-out-of-the-Dominican-salon, commonly worn at bedtime.
[5] Confessing during our interview, Raimundi-Ortiz said it was for research and anthropological justifications that I'd have used, too.